2.    November 18, 2015 - I recommend Mr Albert Servando's services,he is very creative & professional while working with you to help Promote your business. Kootenay Graphic Designs takes the guessing out of promoting your business, as Albert's creative ideas helped me sell my services to potential customers.
Lorne Loucks Painting & Renovations
louxie1@hotmail.com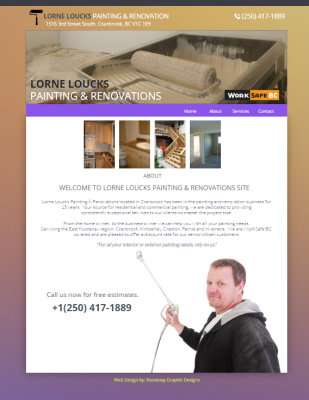 3.    November 19, 2015 - I love the quality and design that Kootenay Graphic Design (KGD) has created for my two t-shirts. It was extrremely in high definition quality. The effort and time made by Albert Servando was highly appreciated. I will absolutely will order more t-shirt designs. Two thumbs up for KGD!

Argie Perez
A&W Kimberley
rg.perez04@yahoo.com.ph  
4.    December 10, 2015 - Awesome poster Albert Diaz Servando! We will definitely do more work with you and Kootenay Graphic Design!
 ​
Pete Durning
Owner
The Legendary BYNG Roadhouse
21 Cranbrook St N, Cranbrook, BC Canada
(250) 489-8772
hollohpoint_pete@hotmail.com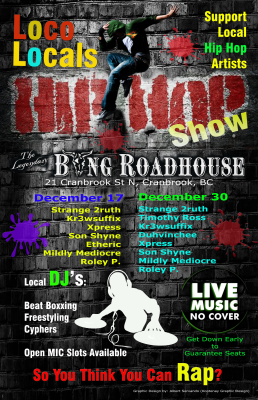 5..    December 10, 2015 - Very well done, everyone's loving it Albert! Thanks again for working with us. The banner and poster look spectacular.
 ​
Sean Hoeksema Selden
Organizer of Loco Locals Hip Hop Show
The Legendary BYNG Roadhouse
21 Cranbrook St N, Cranbrook, BC Canada
(250) 421-9936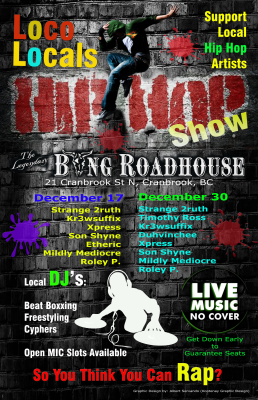 6.    April 4, 2016 - I am impressed of your work Albert Servando , you are truly a talented and amazing person. I'm so proud of you ! Cheers to Kootenay Graphic Design (KGD)

Loneta Pahila 
A&W Kimberley
Kimberley, BC
​Loneta.pahila@gmail.com​​